:: Development Tools ::
The starting place for development tools is the main Arduino Software Page.
Navigation
---
Installing Arduino on Linux / *BSD
---
Pluto - prototype arduino in Python
Pluto is a Python library built on top of pyFirmata but with simpler, more intuitive APIs and other magical methods for quick prototyping.
Python is the simplest language to learn, and Pluto intends to help beginners like students and educators to learn both programming and electronics, and designers who work with media and physical computing to easily prototyping their ideas without having to upload and compile the code every time.
Download or clone from this repo. It is in alpha and any contributions are welcome!
Embrio - a visual, real-time development tool for Arduino programming.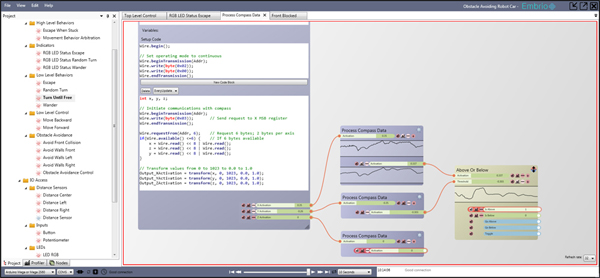 Embrio is a visual programming environment for the Arduino. While easier to learn and use than traditional coding, it is intended to be a serious development tool for embedded software.
Visual programming is great for some things, like program flow and logic, while code is better for others, like interacting with hardware. Embrio gives you the best of both worlds. You can write Arduino code right into a node, then use the powerful "agent based" architecture to define the control of your program.
Features include:
A real time connection to your Arduino letting you see and graph actual data and get immediate feedback on changes to your design without having to re-compile every time you change something.
Timing data is recorded for all nodes in your project, giving you an accurate estimate of resource usage while you work.
There is a growing library of pre-made components to make it easy to interact with any hardware and save time creating common node structures.
The unique and powerful "agent based" architecture is a fun new way to design real time embedded software.
An agent is a group of nodes with one job. Your project can have many agents. All agents and their nodes are constantly updating, making most of the challenges of parallel programming on a limited processor disappear.
With the full version, you can upload your final program to your Arduino so it can run without a connection to your computer.
Download the free version now, then get started by going through the growing list of tutorials and example projects.
---
VIPER is Python Embedded in Real-time
VIPER is an easy to use development suite for Arduino and other ARM 32 micro-controller boards.
VIPER is a change of paradigm!
With VIPER it is possible to develop in Python for Arduino DUE and similar boards using paradigms and features typical of PC and mobile programming. Unlike other solutions on the market, VIPER is cross-platform and compatible with all sensors and kits.
VIPER is a set of open source tools developed and professionally maintained with a specific mission: make design and prototype activities enjoyable!
VIPER VM
The core of VIPER is the VIPER Virtual Machine. It runs on top of a multithreaded real-time operating system and once installed on the Arduino DUE make it able to run Python 3 compiled scripts.
VIPER VM supports all the most used high-level features of Python like modules, classes, multithreading, callbacks, timers and exceptions, plus all the Arduino hardware-related features like interrupts, PWM, digital I/O, etc.
VIPER IDE
VIPER scripts can be uploaded on the Arduino through the VIPER IDE, a browser-based development environment with cloud sync and board management features, that runs on Windows, Linux and Mac.
VIPER APP
VIPER also includes a ready to use mobile app (VIPER App) that acts as an interface for all the VIPER powered projects. When launched the VIPER App discovers all the VIPER devices available on the network. Once one of them is selected the App will become its interface. VIPER App interfaces are based on HTML 5 templates that can be edited through the VIPER IDE integrating them in the VIPER Python scripts. VIPER app Templates support JQuery Mobile!
Download VIPER at this page.
---
PlatformIO
PlatformIO is free and open-source cross-platform code builder and library manager for Arduino with Continuos and IDE integration. It has pre-configured settings for the most Arduino Boards.
Embedded Development. Easier Than Ever.
Colourful command-line output
Built-in Serial Port Monitor
Configurable build -flags/-options
Integration with development environments (IDE)
Pre-built tool chains, frameworks for the popular Hardware Platforms
Smart Code Builder. Fast and Reliable.
Reliable, automatic dependency analysis and detection of build changes
Improved support for parallel builds
Ability to share built files in a cache
Lookup for external libraries which are installed via Library Manager
Library Manager for Arduino''
Friendly Command-Line Interface
Modern Web 2.0 Library Search
Library dependency management
Automatic library updating
It runs on Windows, Mac OS X, and Linux (+ARM).
---
Identical build process to the Arduino IDE, source code remains identical
Supports all Arduino versions:- 1.0.x, 1.5.x, 1.6, all Arduino and 3rd party boards
Uses same tool chain as your installed Arduino Ide
Fast compiler with drill down into source from errors
Also supports the free Visual Studio 2013 Community Edition
Simple installation, no code changes required
Support for GIT and TFS
Code completion/intellisense, compile, upload, programmers ...
Supports multiple .pde/.ino/.cpp/.c files in a single project
Library explorer (all Arduino library formats), code explorers
Optional usb/wifi debugger with trace/break and update of variables on a running mcu
See errors as you type, automatically underlined code errors with suggestions
Also includes embedded web site development tools (for wifi hardware like the Arduino Yun)
---
Arduino Eclipse IDE (runs on Windows,, Mac and Linux) for Arduino 1.5.x
This free open source product is a professional tool and complete alternative to the Arduino IDE. It is the only IDE that is supported and actually used on all platforms supported by Arduino. For more info see eclipse.baeyens.it Note that this version is not based on AVR plugin. You install the product and show it where your Arduino IDE is installed and you roll.
---
Atmel Studio
Atmel Studio is a free development environment, based on Visual Studio 2010, from the company that makes the microcontrollers used in the Arduino. Built-in compilers can target the Arduino, or you can use a Makefile to build programs for the Arduino with the same toolchain, and libraries, used in the Arduino IDE.
Using Atmel Studio 6 with Arduino projects is a step-by-step guide to transferring Arduino sketches to Atmel's IDE.
---
MariaMole
MariaMole is an alternative IDE for Arduino. It was created to be as easy as the original Arduino IDE, but also to include some features that programmers are used to see on modern IDEs, like working with multiple projects at the same time, color themes, fine-tuning the compiler/linker options, etc.
It's a very light, open-source and complete alternative for creating and uploading Arduino projects. It's runs on Windows, Linux and Mac.
The oficial page has more information, tutorials and the links for downloading it: http://dalpix.com/mariamole
---
Microsoft Visual Studio
---
Universal Embedded Computing IDE (UECIDE)
UECIDE started out as a fork of MPIDE which was itself a fork of the Arduino 0023 IDE. Since then it has grown to be come a fully fledged IDE with an embedded device orientation. Fully supporting all the Arduino boards, plus a whole host of others, it runs on all the main operating systems.
---
Arduino Eclipse plugin (Windows, Mac and Linux)
With the Eclipse plugin for Arduino you get nearly all the functionality of the Arduino eclipse product but you can integrate it into your environment. Are you working on the Yún and you want a Lua editor, a web editor, and your Arduino code in one project with version control? Then this is your best choice. the Arduino plugin page
---
Eclipse with the AVR plugin
Do you want to control all the functionality of your AVR processor and have full functionality of avrdude at your fingertips? Then see the playground page Eclipse on how to set it up.
---
Makefile or ANT script
Visit the project ArduinoDevel. It exports a base Makefile and ANT script.
---
embedXcode: Arduino on Xcode with Mac OS X
Use the free IDE Xcode 5 on OS X 10.8 Mountain Lion and 10.9 Mavericks or Xcode 6 on OS X 10.9 Mavericks and 10.10 Yosemite to develop your sketches for Arduino with all the niceties Xcode offers, as syntax colouring, code completion and much, much more.
---
biicode (windows, linux, mac)
It's a free app and service intended to make sharing Arduino code easier, it can be used along with other editors but it offers it's own IDE as an option.
Simple installation
Allows easy code sharing and reusing other code (no need to download libraries anymore)
Allows organizing your code in different folders and files
You can use biiIDE or any editor of your choide
Documentation and examples and dedicated forum
---
Others
---
Mirrors of the Software
This section documents links to mirrors of the official Arduino IDE. Please add the location of your server as well, it will help people to get the closest path to the files.
Last status check: 2015-04-30. The 'up-to-date-ness' of mirrors is color coded from green to red. Black stands for offline