Arduino IDE Plugin for Microsoft Visual Studio and Atmel Studio
---
Microsoft Visual Studio 2013 Community Edition (it's free and great!)
Supports all Arduino versions 1.0 to 1.6 and the Intel Edison/Galileo
Super fast compiler with double click drill down into source code
Supports multiple .pde/.ino files in a single project
Easy set-up
Usb/wifi debugger with break and update of variables on the mcu
Educational mode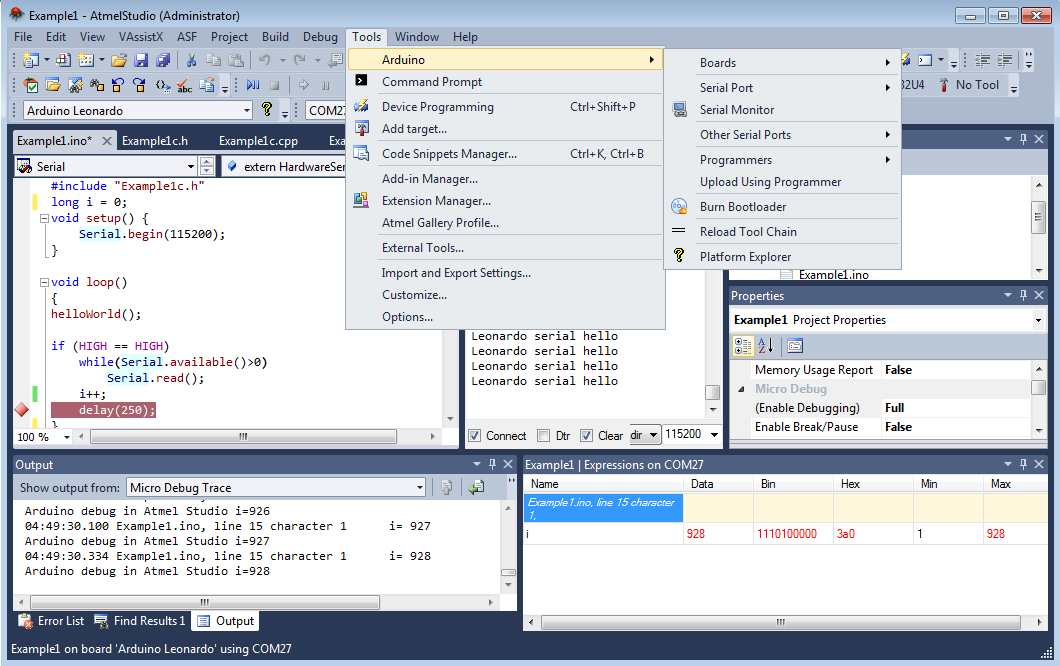 Visual Micro is a 100% compatible Arduino programming tool for Visual Studio and Atmel Studio.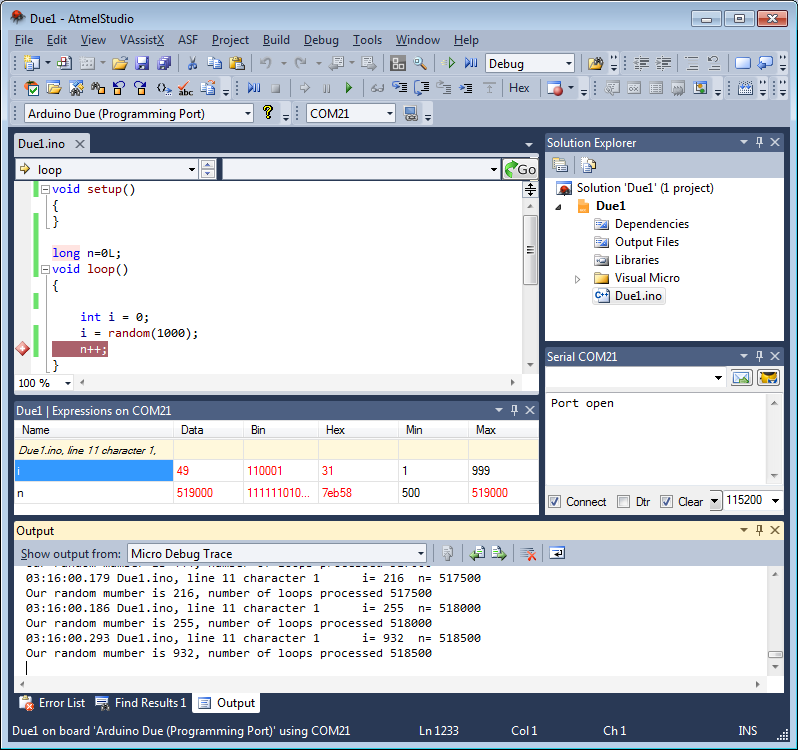 This free Arduino programming plugin is based on the operational procedures of the Arduino IDE and follows the rules applied by the Processing IDE for Arduino. This allows any Arduino sketch program to be opened, compiled and uploaded to any Arduino hardware
The Arduino IDE plugin is aimed at novice and expert users and suitable for both small and large Arduino projects.
The plugin automatically configures Visual Studio based upon the version of the Arduino IDE. This means complete and seamless compatibility between Arduino 1.6, 1.5 and 1.0 versions.
Visual Studio (or Atmel Studio) and the plugin are very easy to install and do not require any technical expertise.
A few example features...
Standard Arduino IDE programming with debug option
Adding Libraries is as simple as Arduino
Serial Monitors are far better than in the Arduino IDE
Compilation is faster than the Arduino IDE
Intellisense and code completion is excellent
Code explorers to see where Arduino code is called
Multiple sketch projects in a single solution very useful
Automatic detection of existing sketch code when opening a sketch, same as Arduino
Complete code compatibility between the Arduino IDE and Visual Studio
Optional debugger upgrade (no additional hardware required)
Getting Started
Step 1: Setup
Read the documentation - especially first time users.
Run the installation .msi file.
Step 2: Open an existing sketch as follows:
Click on File->Open->Arduino Project
Select an existing sketch in the Arduino project directory.
Once the project has loaded and opened, select a board from the Boards toolbar.
Select a programmer from Tools->Arduino->Programmers.
Press F5 and enjoy.
OR
Step 2: Start a new project
Click File->New->Arduino Project
Enter a name for your project
Click OK and enjoy.
Multiple sketches in one Solution.
Click File->New->Arduino Project
Enter a project name
Click Ok and a new project/sketch is added
How to compile and upload to an Arduino using Visual Studio
The standard Visual Studio "Build" options will build/compile for Arduino for either a single Arduino project or all Arduino projects in the current current solution.
The standard Visual Studio "Debug" options will upload (but not debug). "Start with or without" debugging will upload for the selected port and board. On the tools menu you can also override the serial upload and use a programmer instead.
To recap, all of the Visual Studio "build/debug" tool bar buttons, "build" menu items, "debug" menu items, right click context project menu and keyboard shortcuts provide compile and upload for Arduino. For an example then press F5
If we have multiple Arduino projects in a single solution we can right mouse menu on a project name to "Set As Startup Project". This governs which project is uploaded when clicking F5/F8 or any of the standard "Start" commands in each Ide. The current start up project will be shown in bold in the Visual Studio solution explorer.
All of the above Visual Studio or Atmel Studio commands will automatically work with Arduino when an Arduino sketch is open. These commands work in the same way for all types of Visual Studio applications. The commands are described in more detail in the Microsoft Visual Studio help.
Code Error Tracking
Many code errors will be shown as you type or when you view your source code however some will become more obvious when you try to compile. When you compile you will see a status in the "Sketch Builder" output pane. Errors will also appear in the output pane.
You can drill down to the relevant source code of any errors by double clicking the respective line in the "Sketch Builder" output.
Some interesting information
Serial Monitor
More that one Serial Monitor can be view at one time. Simply select the port from the toolbar drop down menu, click on the Serial Monitor icon next to the toolbar. Now place the Monitor window where you want. Repeat this action for more Serial Monitor windows.
Boards
Each project is setup with a unique board. Select the board of choice from the toolbar and save that project. Multiple Arduino compatible Arduino IDE's are supported.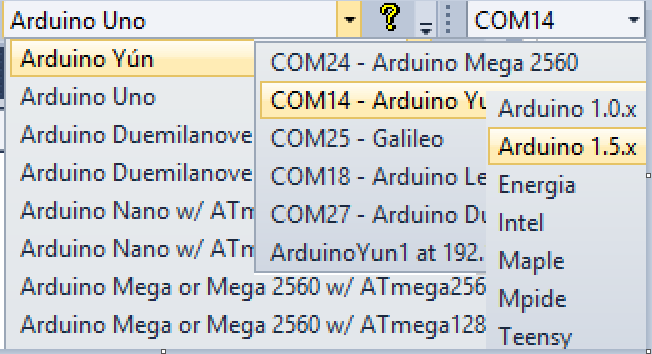 Reference and Examples Explorer